​Many people don't know that the Mississippi Sound is a major migratory route and wintering ground for thousands upon thousands of diving ducks, and some sea ducks too. Capt. Robert L. Brodie has been duck hunting these waters religiously for nearly 50-years, inked numerous articles on the subject, and wants to share a memorable morning of gunning with those new to or well-seasoned into the pursuit of divers.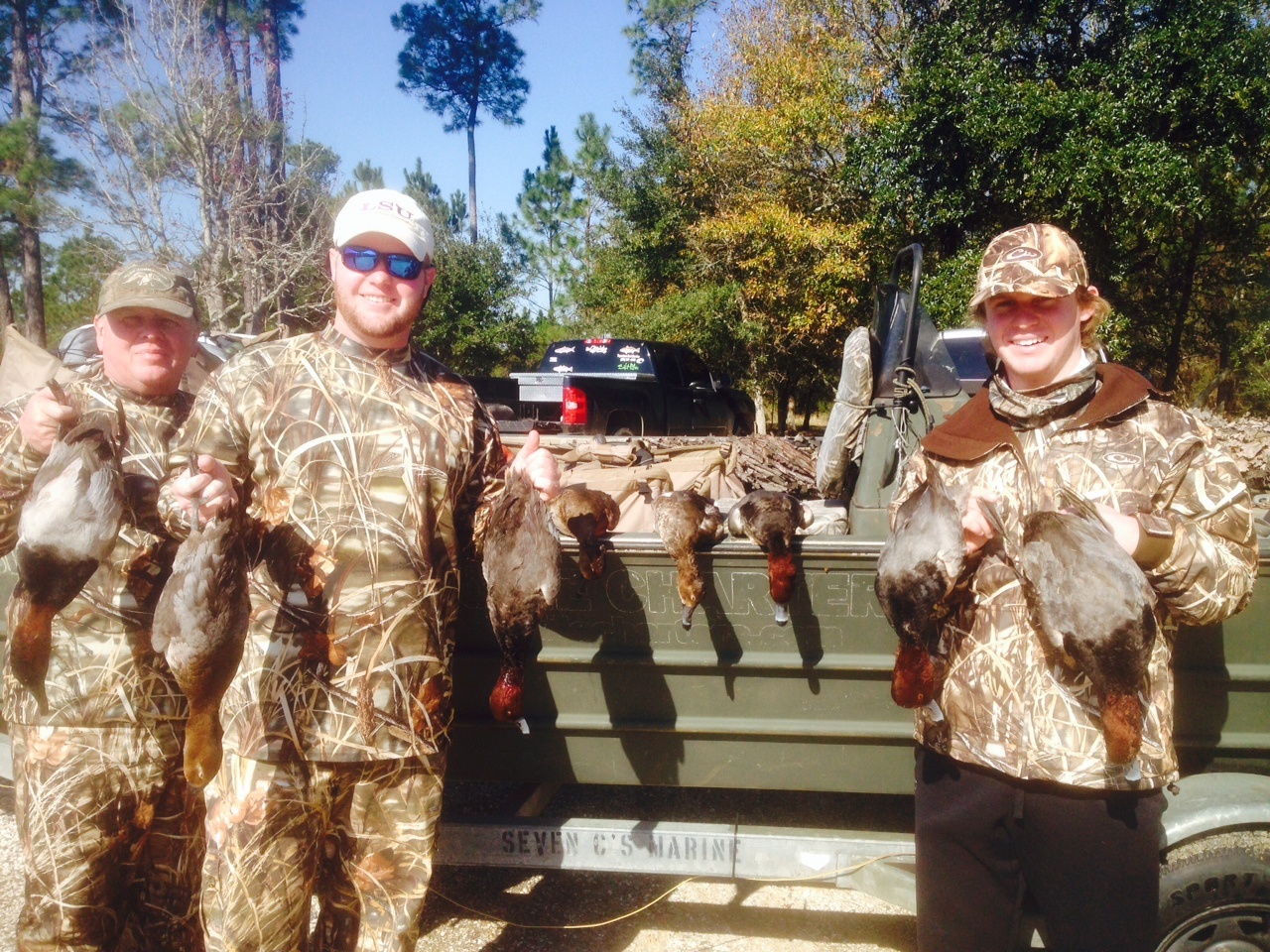 The majority of hunters visiting south Mississippi aboard Team Brodie Charters come to shoot redheads, and preferably big drakes. However, we also take greater scaups, lesser scaups, buffleheads, mergansers, and an occasional canvasback and sea duck like a scoter. From time to time we may take a puddle duck such as a blue-winged teal, green-winged teal, widgeon, or gadwall.
Each year, weeks before the season begins we rebuild an offshore duck blind big enough to conceal a 19-goot G3 Jonboat powered by a 90 hp 4-stroke Yamaha. The G3 is equipped with an Avery Pop Up Blind that allows us to set up practically anywhere in case there is a change in the morning's game plan. There are times when we'll actually set up and hunt in the marsh if that what it takes to shoot ducks.
We hunt over 175 decoys including Green Head Gear, G&H brands, and a few hand carved cork buffleheads rigged on Doctari Longlines…old school style like the market hunters. A MOJO Floater Bluebill converted to a redhead is also used in the large set up.  The decoys are kept connected to the longlines and stored in XL Rig Em Right Decoy Bags. This way, deployment and retrieval of big set ups can be achieved quickly and efficiently.
One of the most important pieces of gear you can bring is Neoprene chest waders. The bottom where we hunt is hard sand, generally thigh to waist deep, thus, we can easily walk about picking up downed ducks, rearranging decoys, and hunting outside the blind if need be. Be sure to bring your blind bag with all your standard gear too.
Gunners must use nontoxic shot, and automatics must be plugged so they can't hold more than 3 shells at one time. Since diving ducks are a hardy breed, and you may be hunting in very windy and adverse conditions 12 gauge 3-inch magnums are highly recommended. A good choice of shells would be 3-inch Federal Premium Black Cloud or Winchester Blind Side in number 2 and 3 shot. Bring at least 2 boxes!
Since diving ducks often fly late on the Mississippi Sound our guided hunts may run to noon if needed. Mississippi's regular duck season usually begins the day after Thanksgiving Day, and runs for 60 days close to the end of January.
​