Inshore charter boat fishing out of Biloxi, Mississippi aboard Team Brodie Charters delivers short runs to some fantastic fishing grounds. Merely minutes from the D'Iberville Marina you can be catching a variety of species depending on the season, and these fish are all prime for the dinner table. However, if you opt for catch and release that's fine too!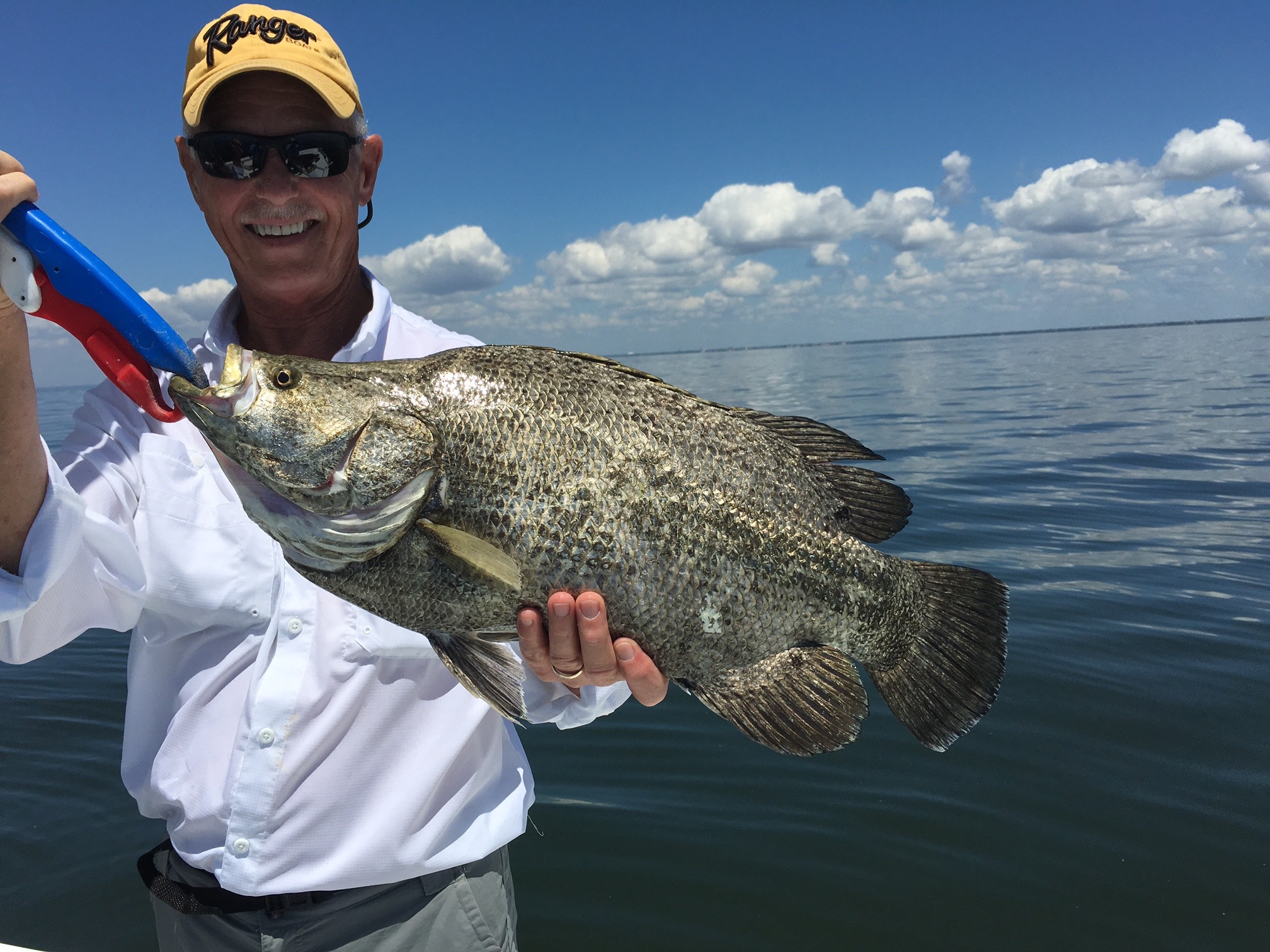 These inshore waters are nutrient-enriched due to life giving silt flowing down coastal rivers like the Mississippi River, Pearl River, Biloxi River, Tchoutacabouffa River, and the Pascagoula River System.  Thus, these waters are some of the richest in seafood and baitfish like shrimp, oysters, crabs, menhaden, croakers, pinfish, spots, anchovies, and more.
As for gamefish…you name it: redfish, sand sea trout aka "white trout," Spanish mackerel, southern kingfish aka "ground mullet," flounder, tripletail, speckled trout, sheepshead, small sharks, croakers, gafftopsail catfish, and black drum are the popular species prowling these waters depending upon the season.
Although the white trout and ground mullet are smaller than most of the other species they are extremely good eating, a frying fish, and they swarm the inshore waters starting in late March running well into November at times. Oyster reefs, wrecks, and various man-made fish havens (limestone reefs and oyster reefs) attract and hold these fish. There are no limits on these bottom dwellers, and the bite can often lead to a fish or two fish (if you're using double rigs) on every cast.
Spotted sea trout aka Speckled trout are caught on many of the same locations, however, they grow much larger than the white trout. Live bait like shrimp, croakers, menhaden, and bull minnows fished under a popping cork is a common way to fish for these larger trout, and they will also readily strike artificial lures like Cocahoes, Saltwater Assassins, MirrOlures, Side-Winders, Mr. Champs, and Heddon Zara Spooks.
Most of our redfish and flounders are caught around some sort of structure like old piers, rock jetties, bulkheads, and such. Live shrimp and live bull minnows tossed into pier's shadows is a common technique to draw strikes, and specialized tackle with Power Pro braided line and heavy leaders is often used to battle them out of the line cutting structure. It can be a challenge at times, but sure is exciting fishing!
Drum and sheepshead often congregate around barnacle-encrusted bridges, pilings, and various bulkheads located near channels.  These two species are primarily caught in the fall, throughout the winter, and into the spring. On light tackle they are a blast with most fish in the 3 to 10-pound class. Of course the black drum, a true bottom dweller, can reach weights of over 60-pounds, and from time to time you might hook up with one of these monster size fish. Bridges crossing the entrance to the Back Bay of Biloxi is a prime area to soak bottom baits for one of these hefty fish.
At times tripletail aka "blackfish" are unique looking fish and frequent the nearshore waters during the summer months, say April through October.  These are structure oriented fish, and are often caught off channel markers like buoys and pilings, as well as most anything found floating on the Mississippi Sound's surface. When cruising to the fishing grounds we are always on the lookout for a tripletail basking under any surface structure, and there are generally plenty of crab trap corks along the way. A live shrimp tossed well ahead of the fish, and then drifted pass its nose is a sure fire way to entice a strike. A dark-hued tripletail is a highly-prized catch, and is considered a delicacy by many.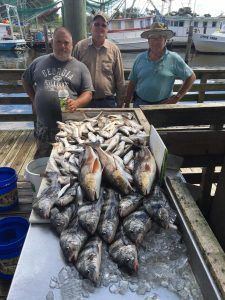 From time to time Spanish mackerel, big gafftopsail catfish, and a variety of small sharks will venture into our inshore waters.  Spanish will hit most live baits suspended under a cork, and especially love a lively silver-hued menhaden.  A shiny Clark Spoon trolled or retrieved at a fast pace will draw strikes too. Gafftopsail catfish, a large saltwater species are often caught on the white trout reefs, are great sport, and are consider good eating by some people. On light tackle they will give you one heck of a fight, and can become a nuisance at times, like sharks, when trying to catch white trout.
Small sharks like to spend the summer in the Mississippi Sound and venture into Biloxi Bay as well. These small sharks are scavengers and will eat most anything that crosses their path. On light tackle they are a blast to catch making speedy runs and leaps at times. Most common inshore species are the blacktip sharks, bonnethead sharks, and Atlantic sharpnose sharks.
Bottom line, one never really knows what you might catch next charter boat fishing in these fish-filled waters off the shorelines of Gulfport, Biloxi, D'Iberville, and Ocean Springs, Mississippi, and that's what makes light tackle fishing these nutrient-enriched waters so intriguing.
Capt. Brodie has fished these waters religiously for 50-years, considered by many one of the most experienced, hard-working, and diverse guides in these southern waters. So hop aboard and let Capt. Brodie work hard so you can have a safe, fun, and memorable saltwater fishing experience..
​