​
SHEEPSHEAD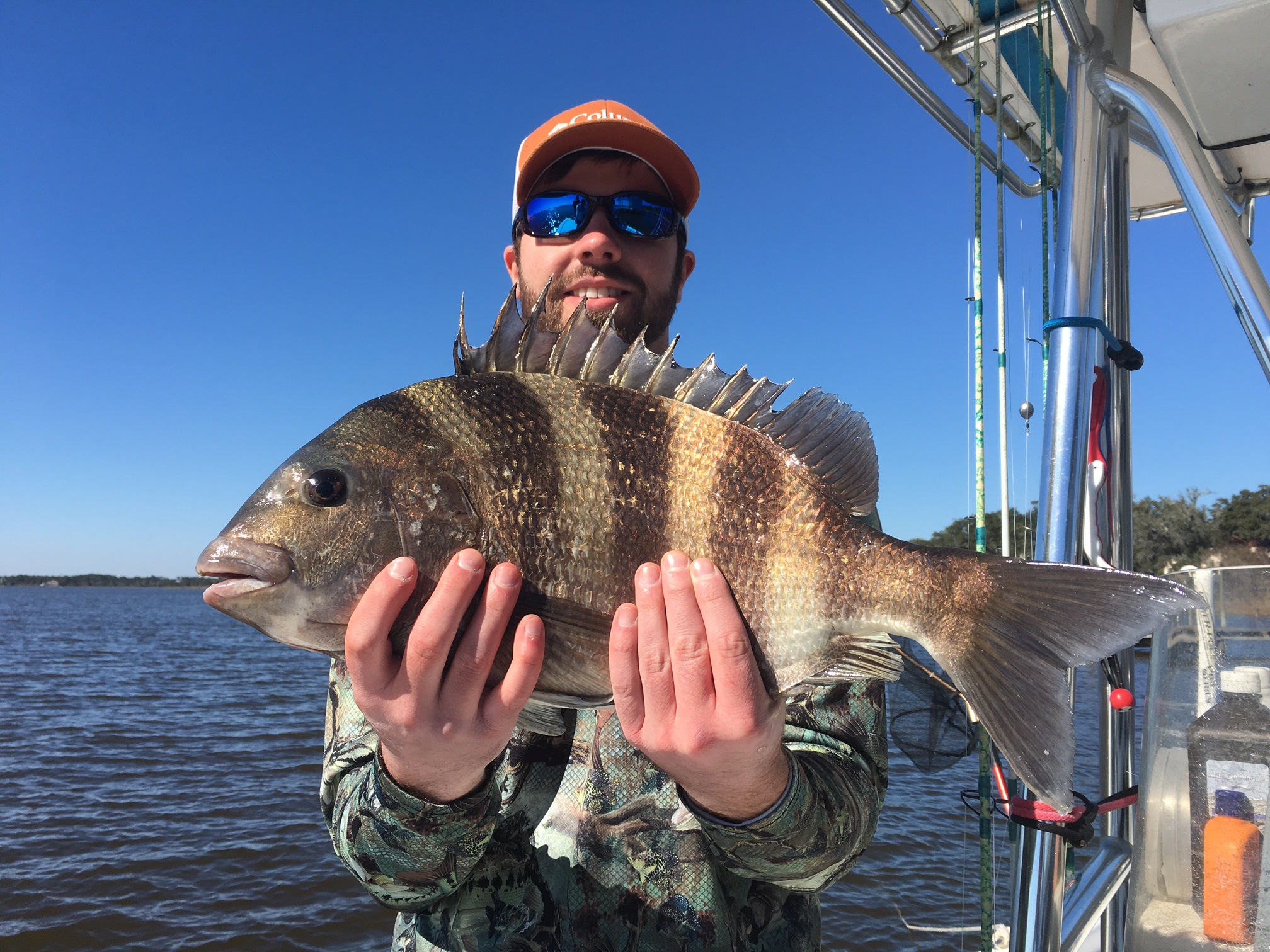 Often referred to as "bay snapper" or "convict fish" these sneaky bait stealers provide top-notch light tackle fishing action. Tremendous fighters, and sort of like catching a 3 to 10-pound red snapper on 12-pound spinning tackle. Sheepshead fishing delivers great sport, and these fish provide excellent eating with white firm fillets. Majority of our fish are caught in the fall, winter, and into early April. Definately a structure loving fish preferring barnacle-encrusted pilings, rocks, wrecks, and the like. To date, there are no limits on sheepshead in Mississippi waters.  
​REDFISH
Often called "spottails", "reds", or "red channel bass" the redfish is one of the most popular gamefish in our southern waters. Noted for their powerful runs and great stamina, the redfish if a formidable challenge on light tackle. Aggressive feeders too, willing to dine on live and dead shrimp, bull minnows, menhaden, croakers, and they love cracked crab. The Mississippi slot limit on redfish is a minimum length of 18 inches to 30-inches, with 3 fish allowed per angler. Only one of those fish can be over 30 inches. The smaller size fish are most preferred for the dinner table, and they are great fried, blackened, or baked.
​​FLOUNDER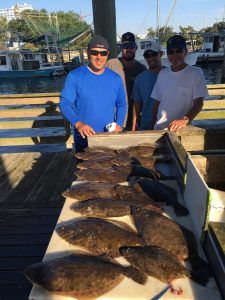 Well, there is no denying flounders aka "flatfish" or "dormats" are some of the finest eating fish that prowl our southern inshore waters. These fish are true ambush feeders laying flat on the bottom waiting for unsuspecting prey to swim by. Slowly bouncing a live bull minnow along the bottom is a prime flounder catching technique, but these aggressive bottom feeders will readily grab a variety of jigs and soft-plastics dragged across their nose. Flounders can be caught year round, but the best runs generally occur in the spring and fall.
BLACK DRUM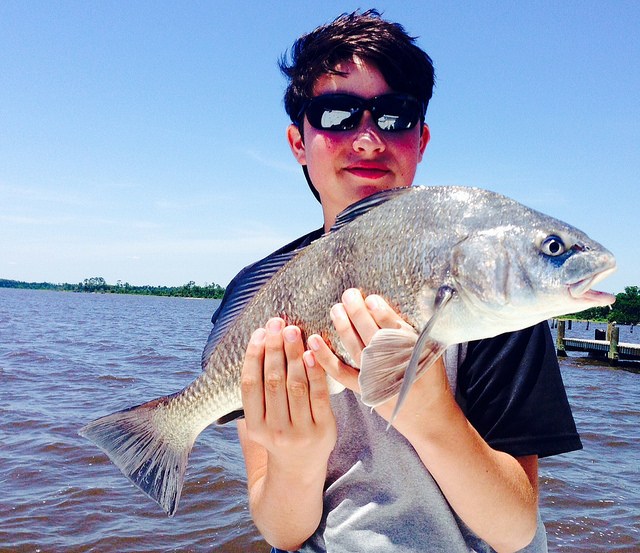 Black drum is another species that has attained a lot of popularity over the years. Small black drum in the 3 to 12-pound class generally referred to as "puppy drum" are excellent eating much like the redfish, and these fish can grow to be huge line stripping specimens in the 30 to 70-pound class. Caught using bottom fishing tactics, drum are great fighters, and like live or fresh dead shrimp, but a piece of cracked crab they find simply irresistible. Runs occur through the bays in the spring, summer, and fall, and massive schools of the monster size fish prowl the barrier islands flats in the winter and early spring. No limits on drum. 
WHITE TROUT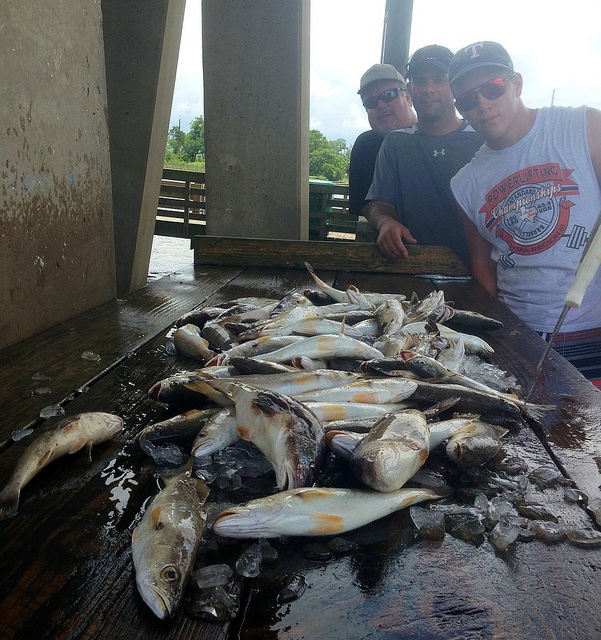 Technically their name is sand sea trout, but here in Biloxi, Mississippi they go by "white trout", one of our "bread and butter" species that invade our inshore waters by the millions. Hitting a white trout hole to start off the morning is always fun, and the bite is generally fast and furious from these smaller cousins of the speckled trout. Bottom fishing with cut croaker or squid is the norm for catching these silver-hued trout, and putting 50 to 100 in the box can easily be achieved on a hot morning bite.These fish provide tasty boneless fillets when rolled in yellow mustard, dredged in Zatarain's Fish-Fri, and then tossed into hot grease.Simply delicious! No limits on white trout!
SPOTTED SEA TROUT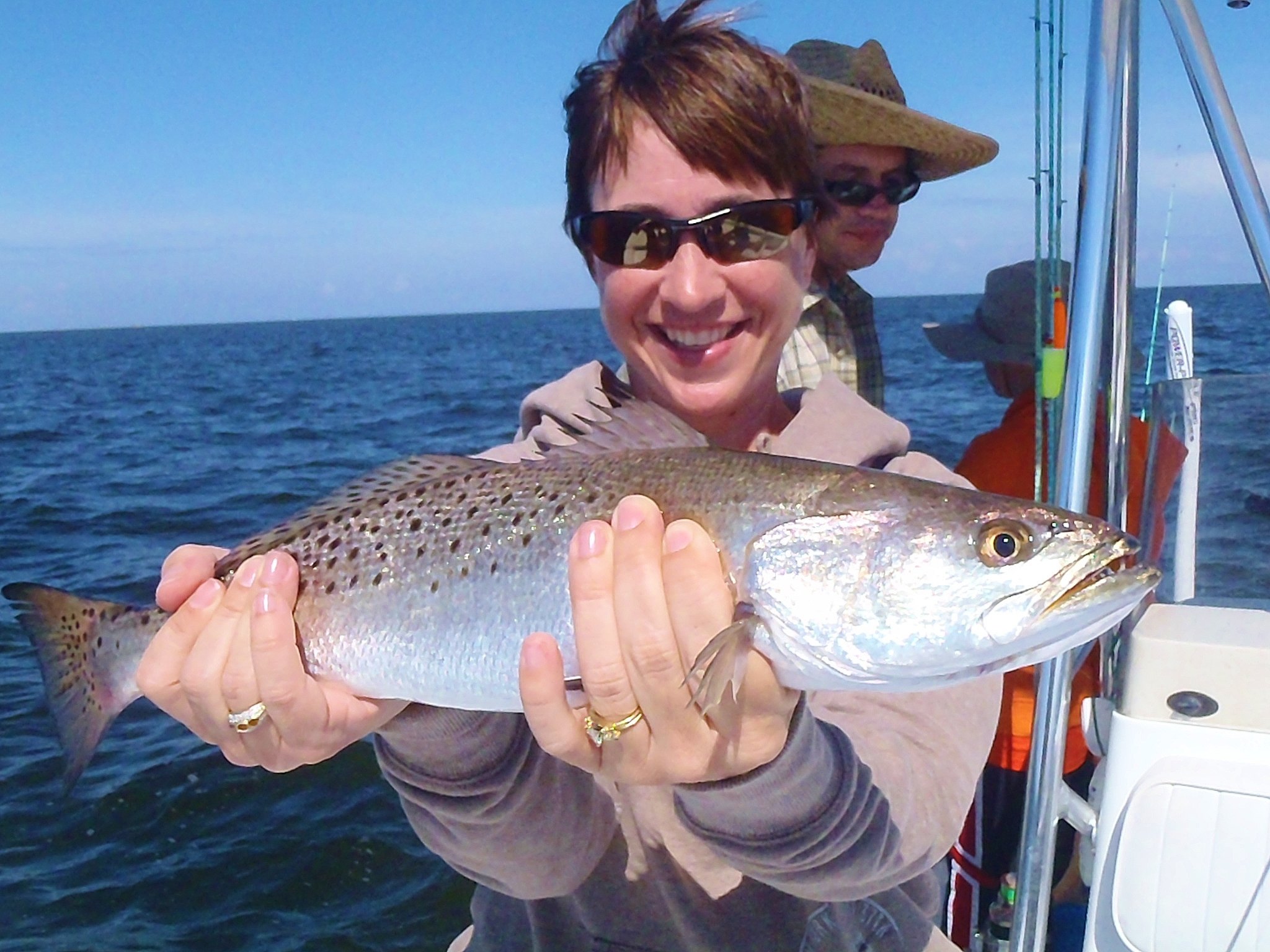 Generally referred to as speckled trout in our region this trout is considered to be one of the more glamorous species due to its fine eating, and aggressive nature for attacking live baits and artificial lures. Specks are caught inshore as well as at the barrier islands including Cat Island, Ship Island, Horn Island, and Petit Bois Island.Specks will eagerly strike soft-plastics, top-water baits, slow sink jerk baits, and many live offerings like shrimp, menhaden, croakers, small mullet, and bull minnows. Some of the better time to target big trout is in the summer just before and after a full moon when they congregate to spawn, and when they move into coastal rivers and bayous in the winter months. 
TRIPLETAIL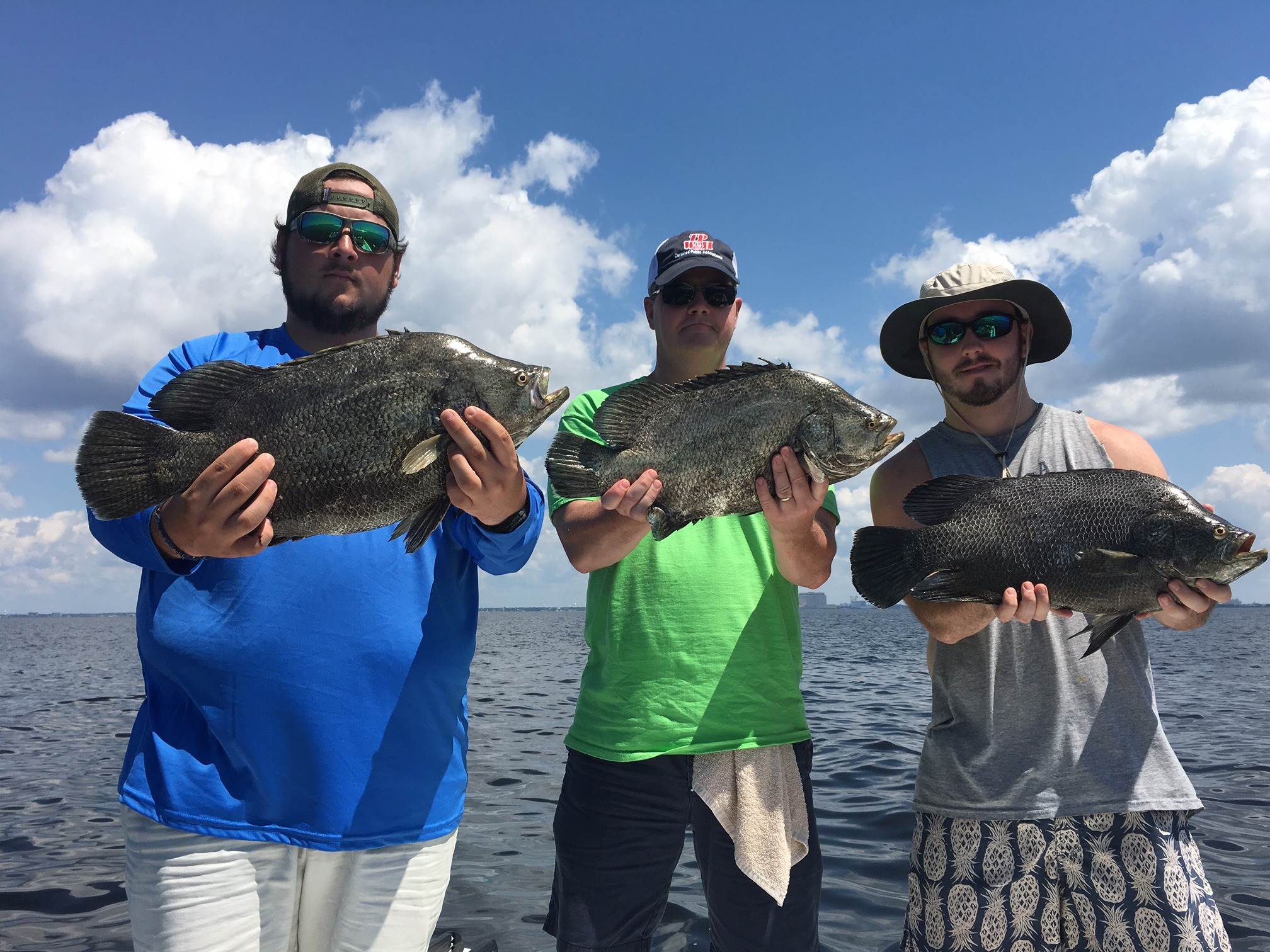 Tripletail aka "blackfish" have the look of having 3 tails with their dorsal and anal fin set close to their tail. Extremely strong fighters, and one of the finest eating fish to swim, tripletail are structure loving fish including pilings, buoys, and anything found floating on the water's surface. Most fish are caught sight fishing, and a live shrimp pulled pass their nose tucked into the current will generally draw a strike. Catching tripletail isn't a numbers game, but a keen angler is always on the lookout for a tripletail's dark image or shadow under crab trap corks and the like. The Mississippi limit on tripletail is 2 per angler with an 18-inch minimum size limit.
COBIA
​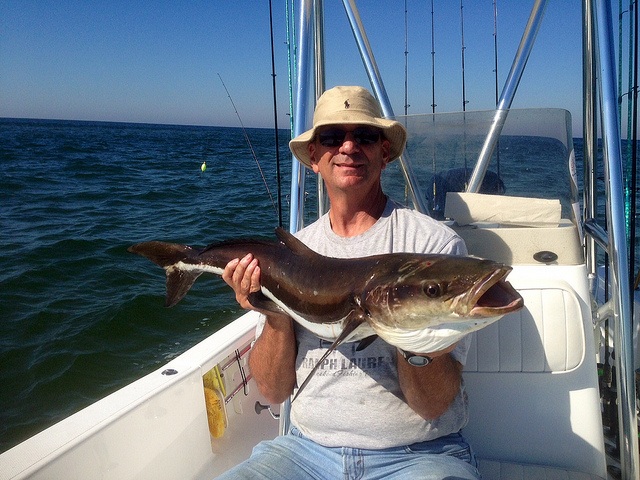 Cobia aka "Ling" or "Lemonfish" is considered a true gamefish
FLORIDA POMPANO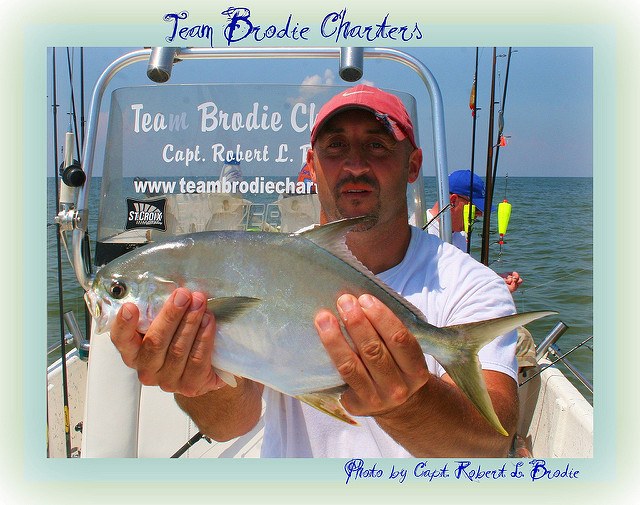 A small member of the jack family, Florida pompano are a highly prized exotic looking species that prefers the warm, clear, and sandy bottoms of south Mississippi's barrier islands. Like ghosts of the flats, these silver-hues beauties are built for speed often making drag stripping runs, as well as crazy skipping jumps. Although pompano will hit jigs from time to time, most in our area are caught bottom fishing using small hooks, and a piece of fresh dead shrimp or a small live shrimp. Anglers often cruse the shallows looking for pompano jumping in their wake, and then return to the area to fish them. No limit on Florida pompano in Mississippi's waters.
SHARKS
SPANISH MACKEREL
​
JACK CREVALLE